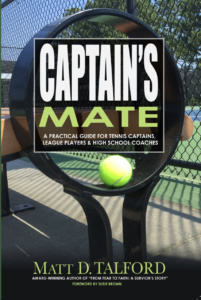 YOU LEARNED HOW TO PLAY… NOW LEARN HOW TO BE A LEADER, BOTH ON AND OFF THE COURT!!!
Captain's Mate is the tennis leadership manual no league player, captain or coach should be without! In it, author Matt D. Talford gives you a unique perspective into the world of amateur tennis, as seen through the eyes of a United States Tennis Association (USTA) Adult League Captain.
Packed with drills and mini games that are both educational and fun, Captain's Mate will…
Help you methodically prepare for the forthcoming league season
Teach you how to take the guesswork out of setting your match day lineups
Help you get the most out of team practices
Provide you with a set of situational and mental focus drills that will sharpen your tennis game
Share life lessons that can be used both on and off the court
Whether you keep it on your bookshelf or in your tennis bag, make Captain's Mate part of your tennis toolkit and take your team and your game to THE NEXT LEVEL!
What Readers Said…
Captain's Mate is a must read for anyone considering becoming a team tennis captain!!  This is a great learning tool.Walter Fournet
USTA Adult League Captain and Player
In reading Captain's Mate I couldn't help but smile and think, 'I have been there' and 'where was this book when I first started to captain?' Matt has an amazing talent for analyzing a problem and working it out. I have known him for over a decade and his respect for the game of tennis and passion for the sport make him a joy to be around. 'Captain's Mate' is a must for anyone wanting to captain a tennis team and is a great read for players, captains and coordinators alike, both new and seasoned.Susan Csencits
Adult League Player, Captain and Local League Coordinator for Mixed & Combo Doubles USTA-South Carolina
Captain's Mate is a great read!  I have recommended it to all of my club team captains as well as my high school tennis coach!Shawn Conyers
Executive Director of Tennis Cold Spring Swim and Tennis Club, Baltimore, MD
Captain's Mate is currently available in paperback at the introductory (wholesale) price of $15.00—limited time only: that's 40% off the retail price of $24.99!!!—and is also available in Kindle and iBooks.  Use one of the links below to order your copy!
BUY IT IN PAPERBACK: