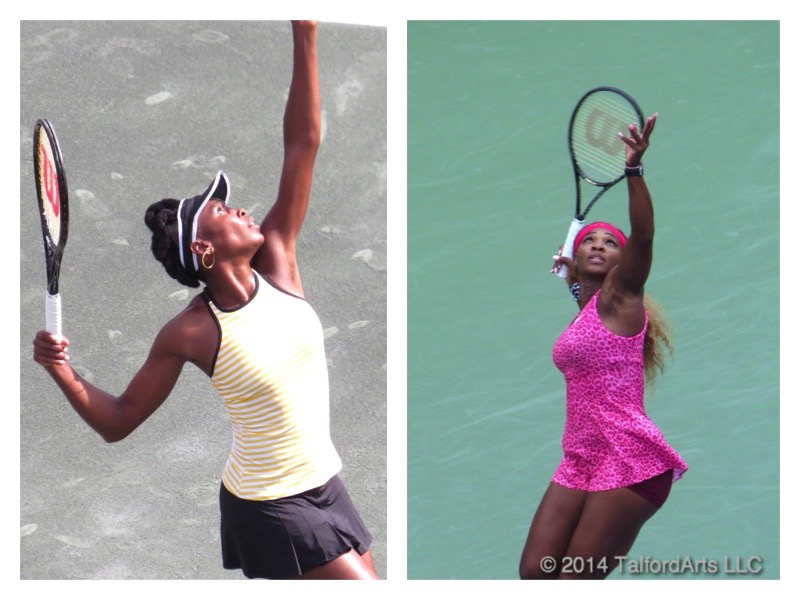 Monday, July 6, 2015: 12:05am EDT – If you're a fan of professional tennis and a fan of arguably the two most famous sisters to ever take the court, one of the first things that probably jumped out at you when the Wimbledon Ladies Singles Draw was released was the possibility that the Williams sisters: Venus and Serena, would meet in the fourth round. Well, what began as a potential matchup is now reality. The sisters will face each other at the All England Club today, their first meeting at a major in six years. And though you may consider "Cruelty of the Draw" a statement of the obvious (it's not the first time fans of the sisters have complained about them being placed in the same half of the draw, let alone quarter), here's why I think the 2015 Ladies Singles draw (for them) is a cruel twist of fate…
Venus, having struggled with health issues for a few seasons, has not won a major since beating her sister Serena in the 2008 Championships at Wimbledon. After being diagnosed with an autoimmune condition in 2011, many sports analysts and critics alike wrote her off, though she has proven her resilience and determination by defying the odds and continuing to be a fierce competitor since, making the finals of the 2014 Rogers Cup and the quarterfinals of this year's Australian Open. Though she appears to have regained top form and is surging back up the rankings, by some accounts, this year's Wimbledon could be her best shot at ever winning another major (though I say, never count out a determined champion).  What a great story it would be for the woman who was at one time labeled, "The Queen of Grass," to come back and win the title on the surface that has been her most successful during her career at majors.
On the other hand, if you've followed Serena's career, you know she's chasing history. Steffi Graf has the most Grand Slam titles of any woman in the Open Era with 22. A win at this year's Championships would put Serena one major win away from tying Steffi's record (a feat which she could potentially accomplish this summer at the US Open). Not only would a Wimbledon win give her 21 Grand Slam titles, but a subsequent win in New York would both tie the record, and give her the very difficult-to-achieve, Calendar Year Slam. It would also give her-her fifth consecutive major dating back to last year's US Open. What an achievement closing out the year in that fashion would be for younger sister Serena! Which brings me back to the cruelty of this year's draw…
So you're probably thinking, "Big deal Matt… they meet in the round of 16… So what? They're both competing in the same tournament, so what difference does it make which round they meet in?" And you know, if you're thinking that, I can only nod my head in acknowledgement of that very good question. But the reason their meeting so early is a big deal (to me) is that, anytime the two play each other, it is an emotional match (though they both do a very good job of curbing their enthusiasm while competing–were it one of my brothers and I, we'd be talking trash to each other the whole match!) Emotional matches won that are not finals often take a lot out of the player. What's even more significant about a Monday Women's match at a major is that the quarters are typically played a day later. It might be a lot to ask either of them to win an emotional match against their toughest opponent ever, only to have to turn around a day later and face a challenger who perhaps spent little if any emotional energy playing their match the day before. The best either can hope for, regardless of the outcome, is that the winner of the Victoria Azarenka/Belinda Bencic match had to go into "extra innings" to win it.
Finally, I'll wrap this up by entertaining the question I'm sure is on the minds of many reading this post… "So Matt… who are you pulling for in the Round of 16 Williams Sisters match?" My answer is simple. I love both Venus and Serena and have since I started following them years ago (when they burst onto the scene rocking the beads and hitting the ball harder than most of their contemporaries). With that said, I am pulling for….. (drum roll)…..
… I'm pulling for whomever to win the match, to win the whole tournament. Anything less would be the equivalent of an opera finale!
Enjoy the match!
-Matt
Matt D. Talford is the award-winning author of "From Fear to Faith: A Survivor's Story," a freelance journalist, and an amateur tennis player who also teaches youth tennis. Follow him on Facebook (www.facebook.com/mdtalford), Twitter (@matdt) and Instagram (@mattdtalford).