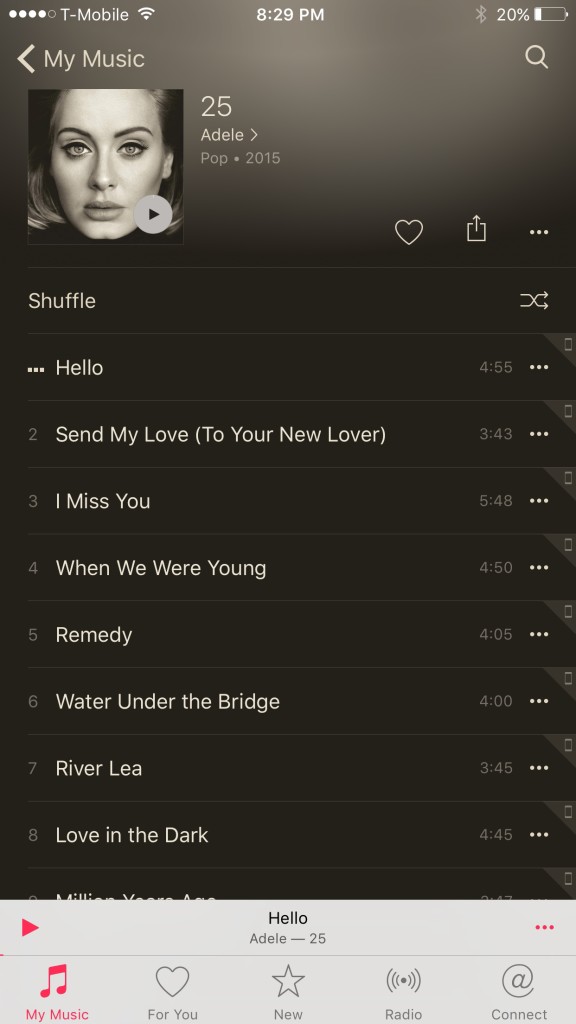 The first time I heard Adele's, "Hello" from her recently released album, "25", it wasn't her singing it.  A close friend and fellow music fan sent me a YouTube link of one of my favorite R&B artists (Joe Thomas) covering it.  I thought, "Wow… this is really good!  Another solid delivery by Joe!"  But then I realized that I had not heard the original yet, so I watched the music video and oh my; I was simply blown away!
As good as Joe Thomas' rendition was, as good as were a lot of the covers I would listen to over the next few weeks (more on that later), none of them could come close to the feeling I still get whenever I hear Adele's recording.  But wait, let's talk about the real magic of Adele's (arguably) best song on the album (if not to date!).
It's an understatement to simply say, "Hello is a great song."  Anyone who's heard it could attest to that.  Also, let's momentarily put aside the fact that "25" sold over 3 million copies in the first week of its release.  The real mark of an instant classic is the number of people covering it.  Over the past few weeks, I've watched all sorts of "Hello" covers: from international recording artists, to amateur vocalists, to instrumental covers in the form of acoustic guitar, piano, saxophone, violin and harp.  The true strength of "Hello" is that it is a great piece of music, combined with great lyrics and a powerful vocal delivery by Adele.  Further, the beauty of the song lies in the simplicity of its accompaniment: a simple, yet powerful piano chord and a strong, steady drumbeat which, combined, serves as the undercurrent that carries the piece.  The entire piece is masterfully balanced, with the instrumental swimming close to the surface, but just far enough below to allow for the spotlight to remain on Adele's powerful yet sincere vocals.  Songs like this seem to be the exception nowadays, in a world where average to subpar vocalists are allowed to hide behind busy (if not noisy) musical scores.
The message in all this is simple… Songwriters and performing artists, if you want to create/produce/perform a great song like "Hello," you need four very critical elements:
A great musical score
Lyrics that first, make sense and second, tell a story
An artist that can deliver solid vocals (excellent control, pitch and dynamics)
An artist that understands the lyrics and can sing them from an experience: (no matter how good he or she is vocally, can a 14-year-old believably deliver "Hello")?
Finally, if you're wondering… Yes, I purchased not only the single prior to album release, but the single was so compelling, I went away from my normal method of purchasing music and pre-ordered the entire album.  If you want my opinion, I think the whole album is solid, but Adele's true essence is captured in ballads and down-tempo songs (e.g. previous hits like "Skyfall" and "Someone Like You").  So if you'd like to know why I veered away from my norm (previewing individual tracks before buying an entire album), at the risk of sounding cliché, I'll answer by simply saying, "Adele, you had me at "Hello!""
God Bless
-MT
Matt D. Talford is author of the award-winning non-fiction, "From Fear to Faith: A Survivor's Story", and is a singer, radio show co-host (Higher Definition Radio – WRHI, Sundays from 7:30-9am), competitive tennis player and freelance journalist.  Follow him on social media:
Twitter: @matdt
Facebook: www.facebook.com/mdtalford
Instagram: @mattdtalford