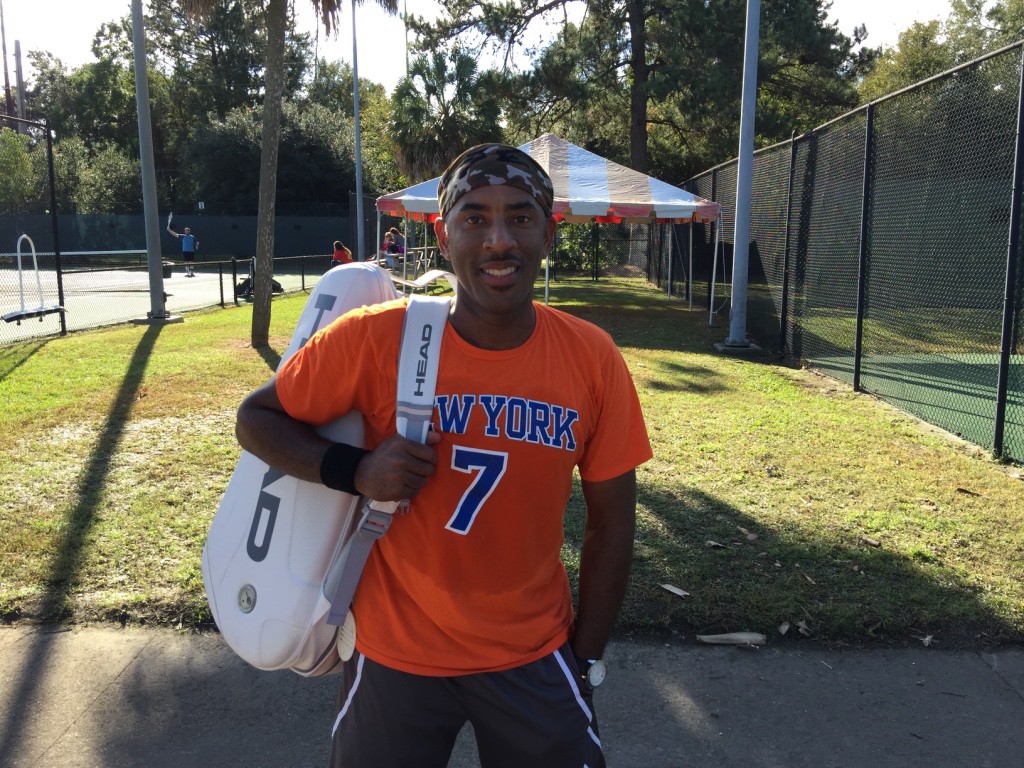 #tennis #usta #stayfocused
Let me first begin by saying, once again, I have learned the bitter feeling shared by championship players from all sports disciplines, who make it all the way from the season opener to the final, only to falter when the sweet championship trophy is just within reach.  Before I go into detail, for the benefit of those of you reading, who do not understand the United States Tennis Association's (USTA) Singles League format, here's how it works:
For each match, each team must field three players: lines 1, 2 and 3.  Typically, the line one player is the strongest of the three available on their respective team for that match; line two is usually the next strongest, and so on (there are other lineup strategies, such as sacrificing the weakest player by trying to match him up with the opponent's stronger player, but that's another topic for another day).
We began our season with a six-man roster and went undefeated during the regular season, which set us up to represent our local league in the South Carolina State Championships in Charleston, SC.  Through circumstances beyond our control, what began as a declared, five-man State Championship roster ended up being just the minimum-allowed three players to battle through round robin group play with the hopes of advancing to the semi-final and final rounds.
My first lesson was a simple one: Nobody gets to the playoffs being average… EVERYONE'S GOOD!  I and my teammates made the collective decision to play me at line one for every match.  And it was not because I was the best player on the team; in fact, we were fortunate enough that the three players we had this weekend were the three strongest players on our team, and each of us is good enough to play the #1 line.  Also, you never know if the other team is going to employ the sacrifice strategy and throw their weakest player at line one, so really, it didn't matter how we lined everyone up.  At any rate, in my first match Saturday morning at 8am, I not only learned that everyone playing at the State Championships was good, I learned just how good.  Not only did I lose my first set of the season (6-1), though I battled back to win the second set 7-5, I lost the match-tiebreaker 11-9.
Two hours later, playing a kid who was probably young enough to be my son, I lost in straight sets (if you only saw the score, you'd think my opponent won comfortably; though the amount of time we were on the court, his post-match comments to me and the look of relief that the match was over suggested otherwise).
Though I dropped both my individual matches, the team won, which put us in first place heading into the final day of round robin play on Sunday.  Excited about having a fresh opportunity to redeem myself and break out of my slump, I headed into Sunday eager to help my team win and make it to the semi-final round on Monday.  When I met my opponent, I thought, "this shouldn't be as tough as yesterday.  This guy is old enough to be my dad!  After imposing my will in my opening service game, I soon learned why this guy was playing the #1 position for his team in that match.  That old guy could PLAY!  What he lacked in mobility, he made up with hard, well-placed, flat forehands that seemed to hit lines and corners every time.  I was on serve at 4-5 in the first set, but facing the sun that had moved since the beginning of the match, I had difficulty seeing the ball with my high toss, and pitched my worst service game all year.  I was broken at love to lose the set 6-4.
The way I lost that game seemed to grab hold of my mental focus and would not let go until I found myself down 5-1 in the second set, with my opponent serving for the match.  I said to myself, "Matt, if you lose like this, this guy is really going to be feeling himself!  One point at a time buddy, let's go… come on… let's climb back into this thing!"  And I proceeded to do just that!  I broke back to serve at 2-5, held serve to make it 3-5, broke him back to get back on serve at 4-5, then held to even the score at 5-5.
I broke him yet again to take a 6-5 lead, but failed to serve out the set, so ended up at 6-6, fighting to stay alive in the tiebreaker.  After going down 4-1, I fought back and won 6 of the following 7 points to secure the second set victory.  All that remained was to close out the match in the 10-point tiebreaker.  With memories of tossing up a double-fault at 9-10 the day before still fresh in my mind, I battled my courageous and skilled opponent, getting as close as 8-8, but playing from behind the entire tiebreaker and never seeming to be able to get the lead.  I went on to lose the next two points and ultimately, the match at 10-8 in the third.
Somber, I went back to the vacation rental I shared with my teammates and reflected upon the prior three matches.  With all the rain we'd had in the Southeast over the past month, I hadn't played singles in over a month, and began wondering if that was the reason for my lack of confidence in being able to close out a match (though in my opinion, tiebreakers are less about confidence and more about concentration).  After being reassured by my wife and teammates who told me, "Matt, you know that first guy 'J' who you lost the tiebreaker 11-9 against has blown everyone else he's played out of the water; not losing more than three games in his other matches; you should be proud that you nearly beat him in that tiebreaker!" I pulled myself together and prepared for the semi-final the next morning.
Well, the semi-final went well for me.  I regained my confidence, playing against another youngster who made me feel old by referring to me as "Sir" the entire time.  I won the match 6-1, 7-5 and went into the final feeling like the sun was once again shining on my tennis game.  In that final, I faced a very good lefty who quickly introduced me to his running forehand.  After going down 5-1 in the first set (again), I made an observation that I should have picked up on at the beginning of the match.  My opponent was noticeably not in the same physical condition that I was.  He was a few sizes larger than I in his midsection, and was wearing a huge, bionic-looking knee brace.  "Why didn't I think of this earlier," I thought.
It was windy that day and he had a tricky, spinny second serve; but it didn't have much pace on it at all.  I had wasted so many opportunities on his second serve either trying to crush it, or playing it safely back in the court, but wasn't using my head.  I changed my strategy and began making him charge in to play drop shot returns off that weak second serve.  At that point, I knew I could win at least another game or two, so I abandoned going stroke for stroke with him and decided to make him chase down balls, running all over the court, to force him to burn his energy "stopping the train."  The strategy seemed to work as I battled back to 5-3, with him serving for the set.  I had him 15-30 that game, and was in position to earn a couple of break points for a chance at getting back on serve at 4-5, but sprayed a ball wide here, then dumped one into the net there.  He went on to win that game and the set, 6-3.
I wasn't disappointed that I dropped the set, because I knew my strategy was causing him to tire, evident by the fact that he began missing more and more shots (something he didn't do much in the beginning of the match).  I continued my strategy of "body-punching" on some points, then hitting big on others, and went on to win the second set 6-4.
With a victory being the only thing between my team and the title of "State Champions," I tried to curb my anxiousness to get my opponent off the court; but what happened next is the equivalent of a wide receiver turning to run before he has secured the football in his hands.
Knowing that my opponent was tired, I tried to take the easy way out by continuing the strategy that had served me well since midway through the first set.  But alas, tennis (like life) is a very funny game.  The wind picked up, which affected my strategy negatively.  All of a sudden, those drop shots that were so effective just minutes earlier were now either falling short (landing on my side of the net) or floating near the middle of the court, and sitting up for him to take just a couple of steps and tee off on.  By the time I realized I needed to abandon that strategy, I was down 6-2, with my opponent being just four points away from closing out the match.  As tired as he was, I observed a shift in his confidence, with him bouncing up and down on his toes and pumping his fist.  I usually respond well to signs of "over-confidence" coming from my opponent by playing a ferocious couple or three points to "put them back in their place," but time is not a luxury you have when playing a tiebreaker, where every point counts.  I tried to resume stroking the ball and hitting it deep, but didn't have the one or two points I needed to adjust my shots properly for the wind.  I never won another point that tiebreaker, and my team went on to lose the match.
So, if you have continued reading up to this point, you might be thinking, "great story Matt, but where's the life lesson?"  Well, here it is…
The morale of the story is, don't throw away an excellent body of preparation and work by rushing when you're near the finish line.  What would I do differently if I could go back in time?  The answer is simple.  I knew my opponent was dog tired.  I had him bent over grabbing his knees during the second set; giving a look like he was either going to quit, pass out or throw up.  I knew that with his being physically spent, the only way I could lose that match is by giving it to him, which is exactly what I did.  In the 10 points he won to claim the tiebreaker and the match, he only earned three: a lob that I let go thinking it was sailing out; a clean forehand winner; and a serve-and-volley point.  Yes… I committed seven unforced errors during that tiebreaker.  I know because I counted them (probably shouldn't have, right?)  In retrospect, all I had to do was commit to imposing 6-10 shot rallies, patiently hitting the ball with good height and spin into the middle third of the court.  His physical condition says that he would have had to take chances to try to shorten the point or just be worn down by having to hit heavy balls.  I didn't make my opponent earn the victory; I did the one thing I'm sure he'd hoped for: I made mistakes and gave him points­… egregious execution on my behalf.
Question: How many times in life have we worked so hard for so long on something, then failed near the end because of thoughtless execution or poor decision making?  The most painful part of the lesson I learned this past weekend is the fact that I "took the long road" and played so brilliantly to put myself into position to win the match, (which would ultimately have secured the state championship, and perfectly capped a magical run by my team) only to take my eyes off the prize and try to take a shortcut to victory.
Some might say, "Well Matt, there's always next year," but there are only so many "next years" that we get.  Make the now count.  Don't take your eye off the ball.  Follow through and claim the prize that you've worked so painstakingly for.
God Bless!
-MT