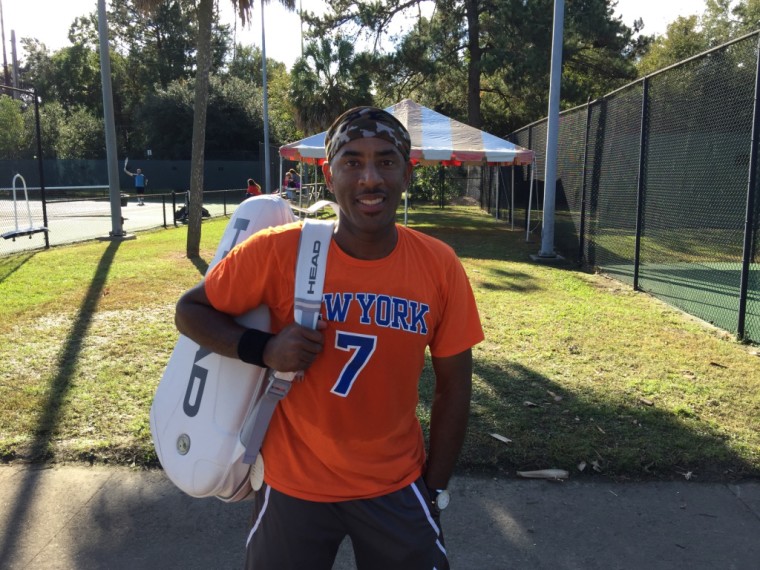 On a night when Madison Square Garden honored the coach and starting five of the 1983-84 New York Knicks, honoree and former coach Hubie Brown stopped by the broadcast table and put on a headset.  After a brief stroll down memory lane, the former coach was asked his opinion of the current, triangle offense: the preferred offensive set of (perhaps not Coach Jeff Hornacek, but) team president Phil Jackson.  Hubie's response was in my opinion, the most insightful given by any fan, player or sports analyst I've heard in the three seasons the team has struggled within Phil's system.
To paraphrase things, former coach and analyst Hubie Brown responded by saying that the job of a coach is to institute an offensive set that puts his best three players in their most productive zones on the floor; and that perhaps the triangle offense has not done that for the Knicks.  I could not agree with him more.
In no particular order, the current New York Knicks have not three, but four potent offensive weapons in Carmelo Anthony, Derrick Rose, Kristaps Porzingis and Kyle O'Quinn.  Somehow though, their effectiveness seems hardly maximized by the current system.
In sports, the two prevailing schools of thought when it comes to coaching are:
Running a scheme that best fits the players you have.
Creating a system and trying to find players that fit.
One approach seems rigid while the other is obviously much more flexible.  I mean, don't get me wrong… finding players to fit into your scheme can produce highly successful results, but that approach works best in collegiate sports, where coaches can recruit to the extent that their budgets and league rules allow.  In professional sports, there are things like drafts and salary caps that limit your ability to load your roster with most (if not all) of your preferred players.
Hubie's comments let me know that he seems to understand what New England Patriots coach Bill Belichick might also understand about getting the most out of the players you have (regardless of who's on the roster, Bill B still somehow finds a way to win again and again).  With their current players, particularly the four I mentioned earlier, there is no reason the current New York Knicks shouldn't be in the top four in the Eastern Conference.
While true that it's difficult to argue against Phil Jackson's 11 NBA titles as a coach, one could argue that those 11 rings had less to do with his system and more to do with his players (Jordan/Pippen & Kobe/Shaq could have won titles in any system).  Hubie's response to the question about the triangle told me that perhaps he doesn't believe the offense puts the Knicks' best players in their optimal scoring zones.  I along with many analysts and fans agree.  Maybe it's time Phil Jackson retires the triangular handcuffs he's been using on all his coaches and allows them to run their preferred systems, respectively.  I've been a Knicks fan since the Patrick Ewing era, but for me, the offense hasn't been exciting to watch since the 2012-2013 season.  Regarding the triangle, can the coach and team president say, "we tried," then finally abandon the system and bring some excitement back to The Garden?  We the fans are long overdue.
-MT
Matt D. Talford is the author of "From Fear to Faith: A Survivor's Story," a saga that chronicles a difficult chapter in the life of a young man, where faith and the game of tennis helped him maintain focus, while battling one of the toughest opponents anyone might ever face. (Available now in paperback, Kindle and iBooks.)
#NYKnicks #TriangleOffense #Knicks