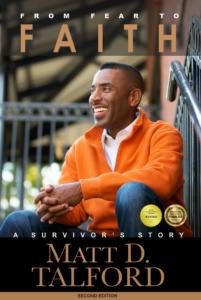 A STORY OF LOVE, HOPE AND DETERMINATION…
In 2010, at the age of 37, he began feeling a "constant ticking" inside his body, completely unaware that what he was feeling was a virtual "time bomb" that could explode at any moment. Seven months later when diagnosed with a rare and malignant form of "The C Word," he quietly reassured himself that time was his ally, while constantly battling against the growing tide of voices whispering, "Don't wait; you might be too late!"
In the multiple award-winning, "From Fear to Faith: A Survivor's Story," (which reached #18 on Amazon Kindle's Hot 100 List in its first week), author Matt D. Talford straps you into the front seat, and takes you on a journey through The War on Cancer, sharing the physical, mental and spiritual tools he used to help reverse what he referred to as "a slow death," and illustrates how courage, a positive attitude, and the right game plan can help anyone overcome any situation, no matter how grave.
Written in a style that had one reader comment, "I thought I was reading a novel," From Fear to Faith: A Survivor's Story, is not the typical memoir. When asked to describe the book, Talford called it, "A saga that I hope will inspire everyone who reads it to take charge of their situation, and understand that fear in the negative produces negative outcomes, while faith in the positive brings about positive outcomes. Every individual has the power to create their own realities – they just have to believe in them!"
What Readers Said…
Truly inspirational testimony!  The author did a great job of taking me on his emotional journey.  For much of it, I felt like I was right there with him!L. Ross
Amazon Reviewer
This book is an easy read, and sucks you right in!  I started reading planning to get thru the first few chapters, and could not put it down and read the whole book in one sitting.  Author does a great job making you feel as though you are on the journey with himAmy S.
Amazon Reviewer
A captivating read!Peter R.
Amazon Reviewer
The candid, first person view from the author gives you insight to a battle that can happen to anyone, at any time.  Whether faced with the 'C-Word', or any other intense situation, the words on the pages can give you motivation to push through.Matt W.
Amazon Reviewer
From Fear to Faith: A Survivor's Story is currently available in paperback, Kindle and iBooks. 
BUY IT IN PAPERBACK:
BUY IT IN eBOOK FORMAT:
---
ABOUT THE AUTHOR
Matt D. Talford, a native of Long Island, NY, is a veteran of the US Army Medical Corps and retired Microsoft Technical Account Manager.  After a 20-year corporate career, he returned to his passion for writing, which began as a passion for reading, developed during evenings, weekends and summers spent as a kid reading at the Long Beach Public Library.  From 1998-2002 he moonlighted as a senior editor for a small Arts and Entertainment magazine based in Charlotte, NC. He credits his love of storytelling to listening to "fishing tales" told by and about his dad and uncles at family gatherings.  His favorite literary genre is adventure, which is subtly apparent in "From Fear to Faith."  Talford and his wife currently reside in South Carolina, where he mentors aspiring authors, actively participates in local and statewide tennis communities (both as a player, coach and volunteer).  When not working, volunteering or teaching youth tennis, Matt enjoys fishing, cooking, playing video games, practicing yoga, watching sports, and playing tennis.